While online conferences do have their advantages, there is no doubt the TNC22 in Trieste, Italy, will become especially memorable being one of the first major physical research and education networking conferences post-COVID.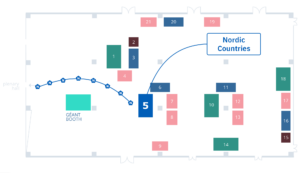 In line with tradition, you can meet the Nordic NRENs at the Nordic booth which you will find centrally located in the expo hall.  We all look forward to sharing  the lastest updates on the Nordic networks and services from DeiC (Denmark), Funet (Finland), RHnet (Iceland), Sunet (Sweden), and Sikt (Norway), including the NORDUnet global network infrastructure and other services.
As in previous years the booth will also serve as a general meeting point where you can get in touch with Nordic speakers and peers.
More than 800 participants from more than 70 countries are expected at the TNC22 which will take place in Trieste from 13-17 June.