There are six focus areas of the NORDUnet strategy, as illustrated in the figure below.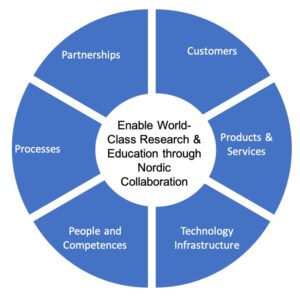 Partnerships: NORDUnet, together with the Nordic NREN Community, strive to be an attractive partner for EU and international collaborations. NORDUnet represent the Nordic NRENs at GÉANT and in international forums, leveraging joint Nordic views. To improve the Nordic e-infrastructure ecosystem we collaborate with NeIC and other Nordic partners. NORDUnet develop Nordic, European and international partnerships to attract external funding for projects and infrastructure.
People and Competences: We ensure sustainability of knowledge by pooling core competences at Nordic level. The Nordic NRENs are committed to contributing resources for joint Nordic projects and activities. We ensure that NORDUnet & the Nordic NREN Community are attractive for the best qualified people. On a Nordic level, we coordinate skills and development.
Processes: We have established a clear Nordic decision framework and an efficient governance model. We identify needs and we spot opportunities for common Nordic procurement. In collaboration, we prioritize which projects we drive and where we participate, on a Nordic level, a European level, and an international level. International representation for the Nordics is coordinated within the NORDUnet & Nordic NREN Community.
Customers: NORDUnet are a strong facilitator of Nordic collaboration. We coordinate joint Nordic positions and views. We leverage the common Nordic voice in international collaborations and towards key commercial partners, and we coordinate with and support the Nordic NRENs to serve their increasingly diversified research and education communities.
Products and Services: We manage data communications between the Nordic and international networks, and  we have international impact based on the needs of the Nordic NRENs and their users. We provide, enable, and facilitate the sharing of Nordic services and infrastructure, and we support the NRENs in defining research & education content delivery mechanisms.
Technology Infrastructure: We coordinate operations and global outreach, and we coordinate engineering of the next generation NORDUnet network and of data communications services. We are a partner in the future telecommunications market, towards other player such as content distribution networks, satellite companies, and telecommunications companies.