On Friday 27 November, 2020 at 10:00 am – 11.30 am CET NORDUnet will host an on-line event to celebrate our 40th anniversary and we would like to invite you to join us in this one-of-a-kind celebration.
40 years ago, NORDUnet was born from a collaborative Nordic spirit and a need for joining forces.
It will be a 90-minute on-line event packed with value for everybody who has an interest in NORDUnet, the Nordics and the global R&E community.
Our program celebrates human resilience, creativity, ingenuity and the tangible results that come from combining efforts, and you will meet distinguished speakers who look forward to sharing their expertise, and ee are in particular happy to introduce Stefan Hyttfors as our Keynote Speaker.
Stefan is an award-winning keynote speaker and author, focused on disruptive technologies, behavioral change, and next-generation leadership, and for our event he will focus on Disruptive Times – How we cope with the speed of change. He has a background as a journalist and economist. He has been awarded the Swedish speaker of the year twice.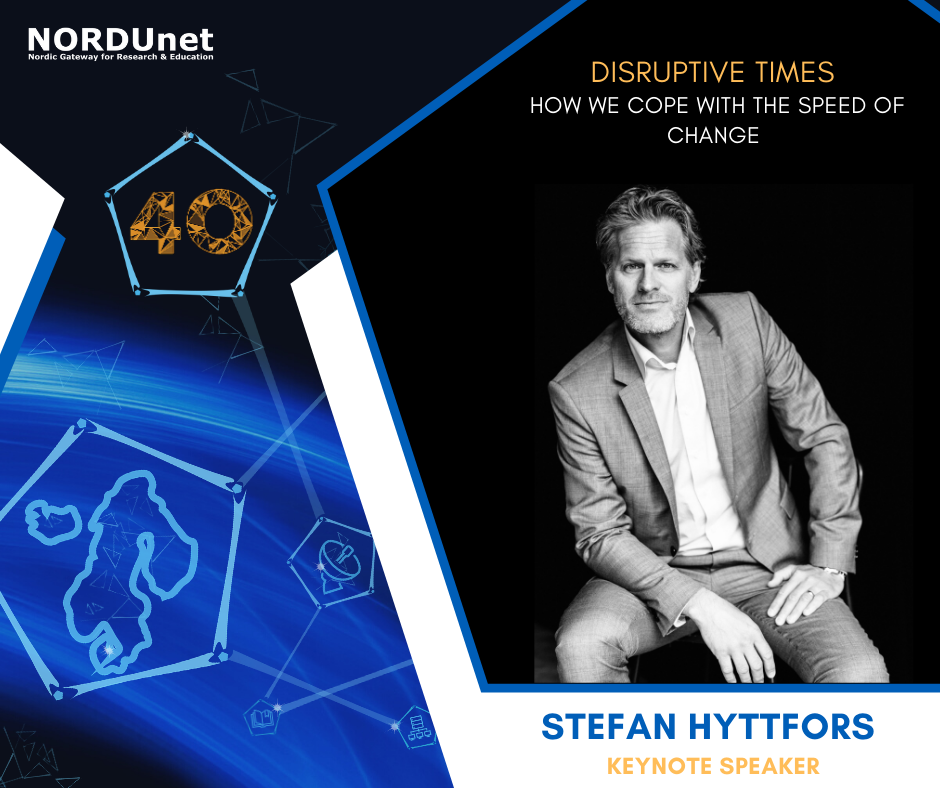 In addition, you will also get the opportunity to interact on selected topics in one of the two parallel sessions that we have put into the event.
Last but not least, we will have an awesome surprise to share during the event. It epitomizes the world of R&E Networks and R&E collaboration from a unique angle.
Sign up for the event using this link https://bit.ly/37UvYID.
We look forward to seeing you on Friday 27 November; and we urge you to look out for more agenda updates.